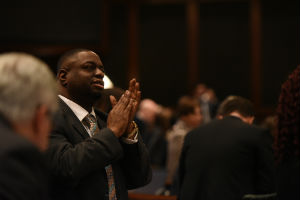 CHIICAGO – Blood drives across the state have been cancelled to prevent the spread of COVID-19, prompting State Senator Emil Jones III (D-Chicago) to put out a call for African American blood donations to help treat sickle cell patients.
"During the COVID-19 pandemic, the state's blood supply has gotten dangerously low, which means sickle cell patients may not be able to get life-saving transfusions," Jones said. "African American communities have already been suffering from limited resources during the pandemic—they need support from their neighbors now more than ever. I encourage everyone to lend a hand to address this shortage."
Read more: Jones encourages African American blood donors to step up for sickle cell patients in need of...
Category: News Releases