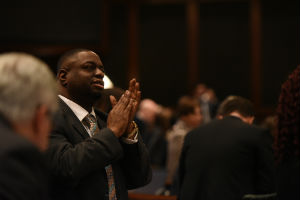 SPRINGFIELD – State Senator Emil Jones III (D-Chicago) voted today to increase the Illinois minimum wage to $15 by 2025.
If approved and signed by the governor, it would be the first minimum wage increase in Illinois in a decade.
"Increasing the minimum wage is something we have been waiting to do for years," Jones said. "Personally, I've been eager to see the minimum wage increase again since coming to the Senate in 2009."
Under the proposal, the state's minimum hourly wage of $8.25 would increase incrementally to $15 per hour between now and 2025. The legislation, Senate Bill 1, also calls for a tax credit to help businesses that employ fewer than 50 workers offset the wage increase.
Category: News Releases