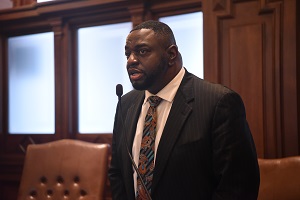 CHICAGO –State Senator Emil Jones III (D-Chicago) announced that Midlothian and Oak Forest will see a combined investment of over $1.5 million in local sidewalks, as well as biking and walking trails.
"Transportation isn't just about cars and buses," Jones said. "People need to be able to safely travel on sidewalks and bike paths to get from home to school and work, as well as to get healthy exercise."
Residents of the communities will see improvements to area trails for pedestrians and bicyclists, which include:
• Sidewalks in Oak Forest and
• The Natalie Creek Trail in Midlothian
These projects are part of the Illinois Transportation Enhancement Program, for which the Illinois Department of Transportation has selected 99 projects totaling $105.7 million. Projects receiving funding in this round of investment include biking and walking paths, trails, streetscape beautification, and other projects designed to encourage safe travel across the various modes of transportation at the local level.
"Having a variety of ways for getting from here to there is very important for residents, commuters and visitors," Jones said. "These local projects are designed to help everyone get to where they want to go."
Category: News Releases