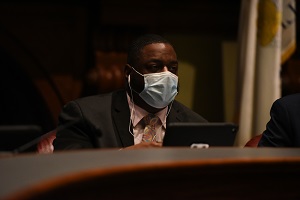 CHICAGO: State Senator Emil Jones III (D-Chicago) announced $2.5 million dollars in grant funding to expand recreational activities for Alsip area residents through the Illinois Department of Natural Resources Park and Recreational Facility Construction (PARC) grant program, which will be used to expand an existing facility.
"This grant will greatly expand Alsip's indoor recreation facilities," Jones said. "This funding demonstrates a continued commitment from the state to invest in opportunities for more people and families to maintain or improve their health."
The expansion of an existing facility in Alsip will include an indoor walking track, an additional multi-purpose gymnasium, an expanded fitness center, an indoor playground, additional program spaces including senior and teen areas, and seating in the existing gymnasium.
The PARC grant program provides up to 90% of project costs to help build, renovate and improve recreational buildings used by the public, with local governments matching the value of the grants awarded. The grant to the Alsip Park District was one of 17 grants awarded across the state Wednesday.
A full list of grantees is available on IDNR's website.
Category: News Releases