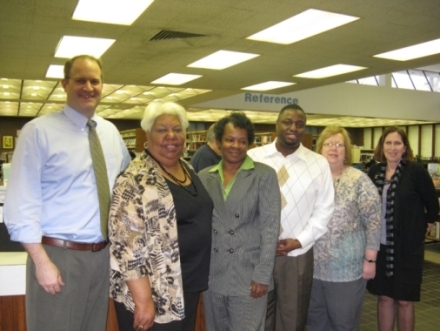 Jones Meets with Librarians from District
Chicago, IL – State Senator Emil Jones III (D – Chicago) recently met with a group of librarians at the Blue Island Library. Senator Jones met with the group to discuss the State's economy and funding for libraries. Several bills that are going through the Senate were brought to the forefront of the discussion.
FOR IMMEDIATE RELEASE: FOR MORE INFORMATION:
MARCH 29, 2011 LARRY LUSTER (217) 782-0907
One of the topics was Senate bill 2192, a measure that amends the State Finance Act to create the Public Library Support Fund. The fund will be used to provide grants to libraries where 30% or more of the residents are at or above the federal poverty level. The legislation would insure that libraries in impoverished areas would continue to stay open to serve the community.
"Libraries are critical to achievement and success. There are studies that show that the more kids read the more success they will have in the future. It is important to continue to foster legislation that encourages libraries and other education centers to stay open and functional." Jones said.
Category: Blog