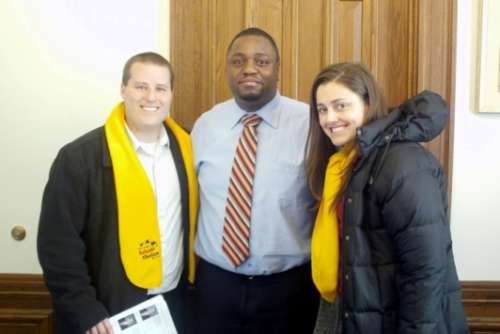 Jones Supports Educational Alternatives
SPRINGFIELD, IL –Last week, State Senator Emil Jones met with a group of teachers from Chicago International Charter Schools (CICS) to learn about the benefits charter schools provide for students.
FOR IMMEDIATE RELEASE: FOR MORE INFORMATION:
APRIL 4, 2011 LARRY LUSTER 217-782-0907
CICS discussed their proven success record, having 97% of their students continue their education beyond high school. They believe their success comes from smaller classes which creates a more caring learning environment. Additionally, the continuity between staff, teachers and administration creates an atmosphere of comradeship that helps students impressive results.
The group also advocated for the passage of Senate Bill 79 which would establish a state charter school commission with statewide charting jurisdiction and authority. The purpose of the commission is to review appeals of local district charter decisions.
"We need to continue to foster new methods our state to provide a strong educational system," Jones said. "We should review programs at schools with proven track records and learn from them to create better learning environments for our students."
Senator Jones is co-sponsoring SB 79 which is currently in the Senate on Second Reading.
Category: Blog