Jones Meets with Students Visiting for Tech Day at the Capitol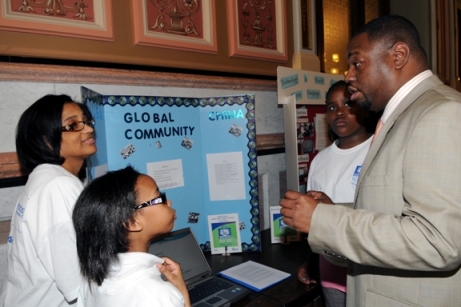 Recently, State Senator Emil Jones III (D-Chicago) met with a group of students from Ryder Elementary Math and Science School. The group came to display projects they completed during the current school year and advocate to legislators about the importance of funding for charter schools.
"The projects Ryder displayed were remarkable," Jones said. "It is important that we continue to ensure that Ryder and other charter schools receive the necessary funds to produce students who will achieve future technological progression."
At Ryder Elementary, technology is incorporated in students' education every day. The use of technology is integrated in core subject areas and students are encouraged to use technology to complete assignments. Technology is available to all students through the use of laptops in every classroom and smart boards that students and teachers use to manipulate visual objects or calculate mathematical problems with the touch of a button.

###
Category: Blog